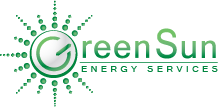 NJPACE Alliance Member and Registered Contractor
Alliance contact: Glen A. Koedding, 732-410-7818, info@greensunnj.com
Solar panel system design, installation, program management, emergency standby generator installation, service and management, energy efficiency programs and services
Company History
Green Sun Energy Services, LLC was formed in 2010 to overcome the many aspects of the solar energy industry that fell short of our expectations.
By October of 2011, we were delivering custom tailored solar programs to clients that appreciated the importance of architecturally appealing solar solutions that delivered higher returns than traditional solar installations.
In January of 2012 we refined our market strategy to focus exclusively on clients who can understand the significant financial returns associated with investing in our custom tailored, high-end solar programs.
In March of 2012, at the request of several clients, we expanded our portfolio to include energy efficient roofing solutions as standalone projects or in conjunction with our solar programs.
In May of 2012 we added metering and monitoring solutions and have since installed dozens of solar metering/monitoring and traditional energy monitoring solutions.
In October of 2012 we entered the emergency standby generator market, received our Authorized Generac Dealer Certification and are providing Emergency Energy Solutions to residential and commercial clients throughout the state of New Jersey.
Today, we continue to work with home owners and small businesses throughout the state of New Jersey by providing a full spectrum of energy programs and solutions that include:
Energy Improvement Services
Custom Tailored Solar Energy Programs
Independent Third Party Natural Gas and Electric Supply
Emergency Standby Generators
Vision Statement
Our Vision is to be the leading provider of energy solutions that maximize long-term financial returns, environmental benefits, and lifestyle continuity for home owners and small businesses throughout the state of New Jersey.
Glen A. Koedding, President and Managing Partner
Primary Service Areas
Green Sun Energy Services provides a host of PV solar, emergency generator, roofing and energy improvment services to homeowners and small businesses throughout Monmouth, Ocean, Middlesex, Somerset, Mercer and Union County.
NJPACE Alliance Member and Registered Contractor
Alliance contact: Glen A. Koedding, 732-410-7818, info@greensunnj.com
Green Sun Energy Services, LLC
PO Box 4314 Middletown, NJ 07748 US
Phone: 732-410-7818 Website: www.greensunnj.com