NJPACE Alliance Member and Registered Contractor
Alliance contact: Steven Maranz, 856-282-1210, smaranz@welovecomfort.com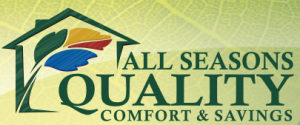 All Seasons Quality is a leading home performance and insulation contractor serving the South and Central Jersey area.  We specialize in residential energy efficiency retrofits.  Specifically. we offer a wide array of home energy efficiency solutions including ducts sealing. insulation installation. home energy audits, and home exterior upgrades such as roofing. siding windows and ventilation.
We understand the the improvements we make on a home are forever.  Our philosophy has no changed in over 30 years.  We treat each energy efficiency upgrade and insulation installation project as if it were our own home.  After all, we have "QUALITY" in our name!  Our expertise in the exterior improvements such as roofing, siding, windows and ventilation position us as a perfect "go to" contractor for your next project.  All Seasons Quality continues to provide superb craftsmanship and quality materials at affordable prices for home energy services.
Our locally owned and operated Cherry hill NJ insulation contractor business is ready to help provided cost effective solutions to improve the comfort of you home. reduce your energy costs, improve safety, air quality and extend the life of your HVAC unit.
We are also great communicators.  You will be informed of every step of the process.  From reviewing your projects options based on your needs and budget to letting you know about the progress of your project.  Your satisfaction and overall experience is very important to us.  So contact us today if you are looking for insulation contractors in Cherry Hill, NJ.
NJPACE Alliance Member and Registered Contractor
Alliance contact: Steven Maranz, 856-282-1210, smaranz@welovecomfort.com