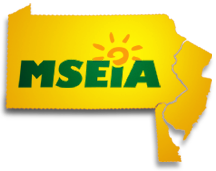 MSEIA, the Mid-Atlantic Solar Energy Industries Association, is a solar energy advocacy trade association which represents solar industries participants in New Jersey, Pennsylvania, and Delaware.
MSEIA accomplishes this by researching, designing and advocating for policies to grow solar energy to be a major part of our future energy supply; to educate the public and policy-makers on the facts of solar energy and to remove barriers that hinder solar development; to promote local solar R&D and solar manufacturing; to assist in designing policies and infrastructure that supports solar on the local, state, and regional level; to develop solar electric and thermal energy as a significant portion of the energy supply mix; to work in tandem with municipalities and local government to utilize and support rapid adoption of solar energy; and to provide real-time data and real world evidence that demonstrates the value of solar energy to the regional electric grid and its role in combating climate change.
MSEIA was one of the original "SEIA chapters" that evolved out of the then nascent national Washington, D.C. based solar policy organization, SEIA –The Solar Energy Industries Association. MSEIA continues to be a regional affiliate of SEIA. Regionally, MSEIA's New Jersey Division advocates approached the NJ Legislature in 1998, and advocated for the creation of a renewable energy fund, which was won and now called the NJ Clean Energy Program. In the Pennsylvania Division, members and advocates have worked since 2000 on establishing the first solar rebate incentive program "The Sunshine Program" and are now working on passage of Pennsylvania's Renewable Portfolio Standard for Solar.  Members of MSEIA include solar contractors, installers, developers, integrators, engineers, electricians, renewable energy consultants, solar R&D firms, solar manufacturers, and service providers to the solar industry (insurance, financing, legal, accounting).  MSEIA encourages its members to practice ethical business practices, and to ensure best practices in solar design and installation. The result is a new renewable energy economy that fosters green jobs, increases local employment, and decreases the consumption of fossil fuels. MSEIA is an IRS approved 501 C-6 non-profit organization.
President: Dennis Wilson, Renewable Power Inc.
*2014 Crowdfunding Supporter