NJPACE Alliance Member and Registered Contractor
Alliance contact: David Hernandez, (203) 942-7376, dhernandez@aegisenergyservices.com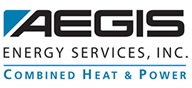 Aegis Energy Services, Inc. is an innovative Combined Heat and Power (CHP) company based in Holyoke, MA. Founded in 1985, Aegis Energy Services' modular systems are currently utilized across the Northeast and Mid-Atlantic providing sustainable, clean power options for a wide array of customers.
Services include:
Economic Evaluation
Manufacturing
Design and Engineering
Project Management
Permitting and Installation
System Operation
Comprehensive Maintenance
Performance Monitoring
Aegis is a full service Combined Heat and Power developer that utilizes modular systems to reduce both energy costs and emissions for a variety of facilities, from healthcare and assisted living facilities, to recreational and multi-unit residential complexes, and hotels. There are also institutional, educational, and industrial facility applications.
Included in its hundreds of CHP installations and maintenance projects are the EPA award-winning installation at the National Archives and Records Administration, the AAA- 4 Diamond Saybrook Point Inn and Spa in Old Saybrook, Connecticut, and multiple installations at the renowned Tudor City in New York.
Under the direction of Lee Vardakas, President of Aegis Energy Services, the company has developed a True Vertical Integration (TVI) approach to modular CHP projects, utilizing a staff of dedicated professionals that are responsible for the complete integration of a CHP system within a client's facility.
The Aegis team handles everything from feasibility studies to engineering, installation, service monitoring and maintenance.
Aegis Energy Services is a recognized leader in the cogeneration field having earned numerous awards for growth and recognition from both state and federal agencies for installations that have resulted in reduced emissions.
Since its founding by Spiro Vardakas in 1985, Aegis Energy has grown into a large full service organization employing more than 50 people that help reduce energy costs for medium and large commercial, industrial and residential customers.
Our large staff of dedicated professionals include mechanical engineers, electrical engineers, factory trained service technicians, project managers and energy rate analysts. We provide complete electrical and mechanical services that are all in-house.
No other company in our industry matches our depth and attention to detail.
At Aegis we aren't just selling you a machine. We are giving you the means to a lifetime of savings.
---
Our Mission
Our mission at Aegis Energy Services is to reduce our client's energy costs by employing our own highly efficient, combined heat and power modular systems.
Through this effort we seek to reduce greenhouse gas emissions and provide electricity in a substantially cleaner, greener way.

NJPACE Alliance Member and Registered Contractor
Alliance contact: David Hernandez, (203) 942-7376, dhernandez@aegisenergyservices.com
*2015 NJPACE Summit Event Host